Silverado community in southwest Calgary is a vibrant neighbourhood that has been growing in popularity over the past few years. Located on the southwest edge of the city. Silverado is home to a diverse population of families and young professionals who appreciate its nice, non-noisy location and wide range of amenities.
Its population is growing at an impressive yearly pace of 20-70% of its population. Some 6,970 Calgarians called it home in 2016.
Silverado is surrounded by nature, with nearby parks and important locations such as the incredibly vast and nature-rich Fish Creek Provincial Park (10 minutes by car to the nearest entry to the park) and the Tsuu T'ina First Nation (17 minutes by car).
Residents are never far from exhilarating scenery in nature, as Silverado can provide direct access to numerous hiking and biking trails that you can enjoy alone or with your family.
And also there is the beautiful Spruce Meadows!
Spruce Meadows is a world-class equestrian facility located in the beautiful city of Calgary, Alberta, a few minutes away from Silverado. With its stunning views of the Rocky Mountains and its state-of-the-art facilities, Spruce Meadows is a popular destination for both riders and spectators alike.
Founded in 1975 by Ron and Diane Southern, Spruce Meadows has grown from a small, family-run operation to a world-renowned equestrian center. The facility features five international show jumping rings, as well as a Grand Prix ring that has played host to some of the biggest events in the equestrian world.
One of the most popular events at Spruce Meadows is the "Masters," which takes place every year in September. The Masters features some of the top show jumper horses in the world, and it attracts thousands of spectators from around the globe. The event features a variety of classes, including the prestigious $3 million CN International Grand Prix, which is the richest show jumping competition in the world.
In addition to its show jumping events, Spruce Meadows also hosts some other equestrian activities, including dressage, hunter/jumper, and eventing. The facility also offers a variety of educational programs, including clinics, workshops, and camps, which are open to riders of all levels.
Back to Silverado, in terms of services and amenities, Silverado has a lot to offer. There are numerous retail stores, restaurants, and cafes in the area, or within a reasonable distance, as well as grocery stores, banks, and medical facilities (there is a shortage of community pharmacies in Silverado, though).
If you can't withstand the long queues of the big chain pharmacies and their long waiting times anymore, then a community pharmacy may be your best bet.
Unfortunately, no community pharmacy (only big chain pharmacies) exists in Silverado!
If you are searching for that nice, family-oriented community pharmacy for your over-the-counter, regular and compounding prescriptions or cold and flu medications for you, your family or your pets, Chaparral Compounding Pharmacy – Remedy'sRx is at your service!
Chaparral Compounding Pharmacy – Remedy'sRx can provide you with an excellent variety of services, including:
Excellent patient care (your community pharmacy is a friend rather than only a pharmacy!)
Free prescription delivery
Free blister packs packaging for your prescriptions
Compounded prescriptions (we also compound over-the-counter medications in case of their shortage, such as Children's Tylenol and Children's Advil and Motrin)
Flu and COVID-19 vaccinations, including Pfizer and Moderna Bivalent vaccines
Adding flavours to and customizing your prescriptions
Customized compression socks
Botox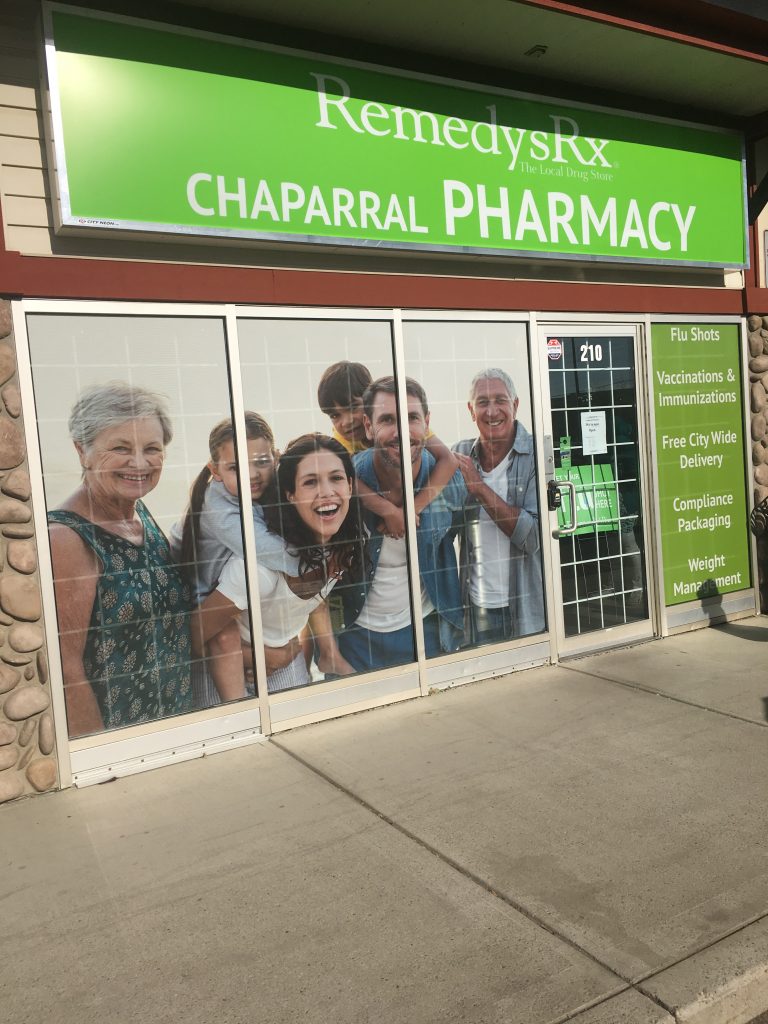 We think of our patients as our big family. Our family is spanning and expanding from Chaparral to Walden to Sundance to Cranston to Evergreen to Millrise to Somerset to Bridlewood to Legacy to Shawnessy to Mahogany to all other southwest communities in our beloved Calgary.
We strongly believe that Silverado is a part of our big family!
You can call us at 403-475-5544, or chat with us using the Facebook Messenger chatbot that is located at the lower left of this page. We will help you and answer your questions even after hours through the chatbot!
Silverado is a great community to call home for those looking for a safe, family-friendly neighbourhood away from noise. With its convenient location and range of amenities, and the expanded services of Chaparral Compounding Pharmacy – Remedy'sRx, it's no wonder why so many people are choosing to make Silverado their home.