Chaparral Pharmacy – Remedy'sRx receives lots of questions regarding our speciality as a compounding pharmacy. That's why we decided to compose this frequently asked questions to help our patients and anybody who is interested in the different aspects of and how a compounding pharmacy works.
What is a compounding pharmacy?
It is a pharmacy where a highly trained, compounding pharmacists, technicians, and assistants can prepare prescribed compounded medications. He can do that by using sophisticated equipment such as ventilated containment hood, special containers, spatulas, measurement and weighing devices, and hundreds of non-medicinal and active medicinal ingredients.
What is a compounding in a pharmacy?
Compounding in a pharmacy setting is the combining or mixing of two or more substances (at least one of which is a medication or a pharmacologically active component) to produce a final product in a dosable form. It may entail the use of raw materials or the modification of the shape and strength of a mass-produced pharmaceutical product. It may involve reformulation to allow for new medication delivery methods. Compounding does not include mixing, reconstituting, or any other modification undertaken in conformity with the directions for use on the labelling material of an authorised medicine.

Why should I use the services of a compounding pharmacy?
Good question!
Normally, patients can find their medication needs using commercially available products (needs a physician prescription of course) with no need for compounding. However, sometimes you may need:
A specific dose that is not commercially available,

a different administration form (for example, as a replacement of hard-to-swallow, large, commercially available pills; or unacceptable, bitter taste suspensions; or existing forms could harm your stomach),

a flavored medication for you, your kids, or your pets,
These specific needs could be better prepared through a compounding pharmacy.
Related Content:
What can a compounding pharmacy do?
It can virtually do all types of medications and in different administration forms, including preparing and packaging capsules, suspensions, topical (creams and ointments), gummies, and suppositories. In addition, sterile medications similar to specialized eye drops could be also prepared in compounding pharmacies.
Most compounding pharmacies (like Chaparral Pharmacy – Remedy'sRx) will help its patients by working with their physicians to prepare the most suitable form of the prescribed medications.
What is a compounding pharmacist?
A compounding pharmacist should first be licensed in his/her province or state or country. Then depending on applicable laws of the regulatory bodies in their areas he or she might require additional training, courses, or shadowing after or during obtaining the pharmacist practice license.
Even if there was no solid requirement to be a compounding pharmacist, the pharmacist interested should have a hands-on work in compounding to know all the ins and outs of the job.
How to start or how to become a compounding pharmacy?
Becoming a compounding pharmacy is again largely dependent on the applicable regulations and laws. For example, in Alberta, Canada, you should check the Alberta College of Pharmacy on how to become a compounding pharmacy. Most of licensed pharmacies in Alberta can do simple types of compounding and need more specialized license to do more complex compounds and in more quantities.
How to become a compounding pharmacy assistant/technician?
It depends on the province, state, or country. For example in Alberta, Canada, a pharmacy assistant job is not a regulated job. You don't need a degree to be a pharmacy assistant. But getting a degree is very helpful and shows your prospective employer that you are well prepared and ready to hit the floor running. There is also a possibility that in your pharmacy assistant program you would go through a practicum (hands-on training), which might even land you a job just after getting your degree.
Pharmacy technician is a regulated job in Alberta, Canada. You have to take a more formal program with intensive amount of work, which involves examinations approved by the Alberta College of Pharmacy. That make the pharmacy technician more knowledgeable than a pharmacy assistant and can undertake more pharmacy duties. And of course (in most of the times) you got a higher pay!
As with the case of the compounding pharmacist, both of the compounding pharmacy assistant and technician will need a hands-on training on compounding techniques.
What is the difference between a regular pharmacy and a compounding pharmacy?
Normally a compounding pharmacy can do all what a regular pharmacy can do and more. The "more" part includes preparing compounds involving medicinal and non-medicinal ingredients as discussed above.
To be more comprehensive, you can use a compounding pharmacy for all your medications needs even if you don't need a compounded medications at the moment.
What medical conditions that compounding could be useful for?
Compounded medications that are prepared by a licensed compounding pharmacy could treat many health conditions including but not limited to:
Mouth fungus resulting from cancer treatments
Acne
Acid reflux in kids
High blood pressure in pets, especially dogs
Migraine prevention
Strong body pain
Cold sores
Mouth infections
Itching
Skin discolouration,
And many other conditions.
Where can I find a compounding pharmacy?
If you google the term "compounding pharmacy" or "compounding pharmacy near me" you can easily find one.
Some provinces, states and countries keep the names and the addresses of the compounding pharmacies in special records, but the easiest way is to just google it.
If you are in Calgary, Chaparral Pharmacy – Remedy'sRx is compounding pharmacy that can prepare customized medications for you, your kids, and your pets.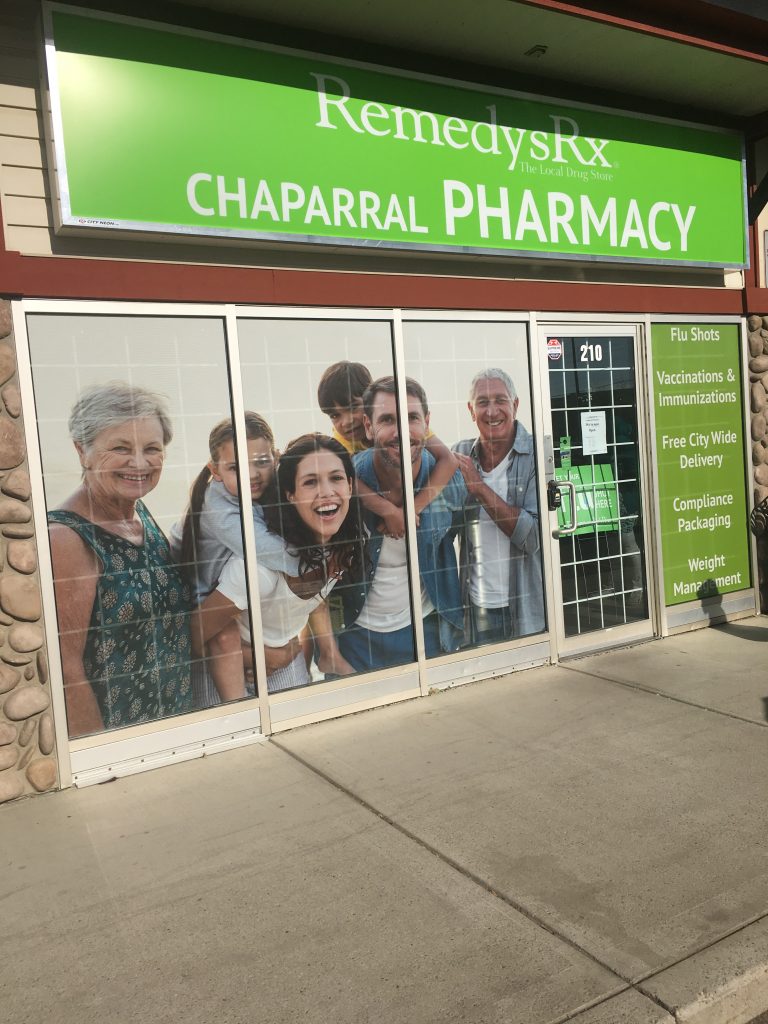 How to do compounding in a pharmacy?
Compounding is done in a pharmacy by weighing, preparing, mixing, grinding, heating (maybe!), and several pharmaceutical ingredients and packaging in a specific administration form according to a prescription by a physician.
Is compounding pharmacy legitimate?
Yes. Compounding pharmacies in Canada are regulated on both the federal and the provincial levels. On the federal level, the Policy on Manufacturing and Compounding Drug Products in Canada contains important definitions and broad guidelines about what constitutes compounding and what is considered as drug manufacturing. Also NAPRA – or the National Association of Pharmacy Regulatory Authorities – further works with Health Canada to develop more in-depth and detailed regulations that each type of compounding (hazardous vs non-hazardous and sterile vs non-sterile, and their combinations).
Compounding pharmacies are further regulated in each province. In Alberta, the Alberta College of Pharmacy (ACP) licences and monitors, and inspect all kinds of compounding pharmacy settings. And works with the compounding pharmacists and other stakeholders to ensure the highest standard possible for all dispensed and compounded medications in the licenced regular and compounding pharmacies.
Are compounded drugs covered by insurance?
In general it is covered. However, it depends on many factors that are related to:
whether the prescribed medication is commercially available (i.e. Is it available or short or discontinued? Is the strength and dosage required could be obtained from a commercially produced medication?
type of your insurance plan
What are the types of compounding in pharmacy?
Compounding could be classified according to many criteria. One criterion is whether it is sterilized (needs a clean room and negative pressure). The other criterion is whether those compounded medications are hazardous or non-hazardous compounds.
Of course those classifications will differ from country to country. And sometimes it will differ between provinces or states in the same country!
Is a compounding pharmacy cheaper than regular pharmacy?
In a compounding pharmacy, you cannot prepare a drug or a medication except under specific conditions. One of those conditions that the compounded medication should not be commercially available (could be non-existing, or short, or discontinued). So we cannot really compare prices because the compounded medication is specially prepared for you and is not available elsewhere.
Are compounded prescriptions better?
Compounded prescriptions are specially prepared and highly personalized for the patient. So in the absence of a commercially available alternatives, compounded prescriptions are very useful and highly recommended, and could be continuously tweaked by your physician to achieve the maximum benefit.
Can I compound my own medication?
No. If you are not a certified pharmacist having all the needed compounding equipment, the active medicinal and non-medicinal ingredient and working in an approved compounding pharmacy, then unfortunately the answer would be no.
How long do compounded medications last?
The expiry date of compounded medications depends on the expiry dates of the different ingredients going into a compound. It is also highly dependent on the stability tests that are conducted under specific conditions by regulated bodies and companies.
Do compounding pharmacists interact with patients?
Pharmacists always should interact with patients to explain all the indications, contraindication, and usage and drug timing to the patients.
Can nurses compound medications?
In Canada, in general, the answer is no. However, in some special cases under specific conditions, registered psychiatric nurses in British Columbia, Canada, can administer, dispense, or compound medications.
What is the difference between manufacturing and compounding?
The legislation that defines and regulates drug manufacturing is contained within Food and Drugs Act and Food and Drugs Regulations. However, the main answer about the differences could be summarized from the Policy on Manufacturing and Compounding Drug Products as follows:
| | | |
| --- | --- | --- |
| | Compounding | Manufacturing |
| Is there a demonstrated patient-healthcare professional relationship? | Yes | No |
| Is there third party reselling of the product outside of the patient-healthcare professional relationship? | No | Yes |
| Is the activity regulated, and facility possibly inspected, by the province/territory? | Yes | No |
| If producing product in anticipation of a prescription, is the amount produced consistent with the history of prescriptions received? | Yes | No |
| Is there an unusually or disproportionately large amount of product produced or on a regular basis? | No | Yes |
| Is an identical product (e.g. dosage form, strength, formulation) commercially available? | No | Yes |
| Is the product and/or compounding service promoted or advertised to the general public rather than strictly to healthcare professionals? | No | Yes |
| Does the drug product require only minor modification prior to direct administration when such modification amounts to mere directions for use? | No | Yes |
For any further questions, you can call Chaparral Pharmacy – Remedy'sRx at our Calgary compounding location at 403-475-5544 or just use the Facebook Messenger chat feature in our website. You can find the chat at the bottom right of any of our webpages.
Thanks for reading this blog post. If you like it, please share it using the buttons below with your friends, family, and colleagues.