Chaparral Compounding Pharmacy in Calgary is now carrying Advil Pediatric Drops (Ibuprofen Oral Suspension), a pain and fever reliever for kids and babies. This is good news for parents who have been struggling to find this medication, as it has been in short supply for some time.
Advil Pediatric Drops are normally commercially available in Canada, but they have been in short supply due to high demand, supply chain problems, and a circulating swarm of several viruses, including flu, cold, RSV, and COVID-19.
Several daycares and schools across Alberta have experienced respiratory illnesses outbreaks and have been issued official announcements from the AHS advising parents on what to do when their kids experience respiratory illnesses. That has put tremendous pressure on the fever and painkillers medication supply and has been a problem for parents of young children who need medication for fever or pain relief.
Now that Chaparral Compounding Pharmacy is carrying the Advil drops, parents in Calgary will have an easier time getting the medication they need for their kids. This is a great development for the community, as it will help families in need.
Advil Pediatric Drops contains Ibuprofen which helps in fast and effective temporary relief of pain and fever due to:
Colds
Sore throat
Immunization
Earache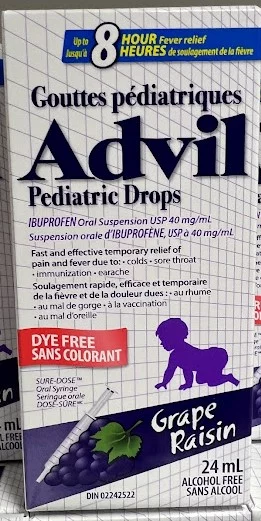 Advil Pediatric Drops:
8 Hours of Fever Relief!
Coming with Sure-Dose Oral Syringe for infants and kids
Alcohol-Free!
Dye-Free!
Grape Flavour!
We have the Advil Pediatric Drops for 0 to 2 years, over-the-counter Children's Tylenol for older kids, Pediatrix Drops (equivalent to Tylenol and contains Acetaminophen) for 0-23 months (6-23 lbs), compounded Children's Tylenol with Tutti Frutti flavour, and more!
Chaparral Compounding Pharmacy also has an extensive inventory of cold, flu, allergy, and infection-fighting medications. For example, your kid may also experience an eye infection in which Polysporin Eye & Ear Drops may help. Or they may suffer from a cough, runny nose or allergy. In that case, Claritin Kids or Aerius Kids can help them a lot!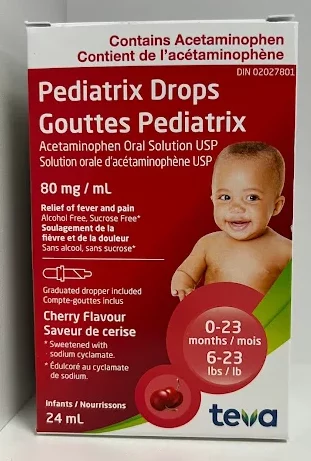 Call us at 403-475-5544 to inquire about the Advil Pediatric Drops or for more information about pain and fever medications for kids and children in general.